Rosen Solar OPzV series are valve regulated lead-acid cells which use a combination of tubular positive plate woven gauntlets, pasted negative plate design and GEL electrolyte using advanced filling techniques in production which assure superior service life and excellent battery reliability. The battery has excellent cyclic performance and charge acceptance ability. It can be used in high-low temperature environment and poor grid condition.
Narada Quality Tubular OPzV Gel Battery 2V 3000Ah for Power Storage, OPzV2-3000
ROSEN BATTERY TAGS:
♦ Lithium-ion Battery, LiFePO4 Battery; Lithium Battery, Rechargeable Battery Pack,
♦ 19inch Battery Pack, Lithium Battery Pack, Lithium Iron Phosphate Battery, Lithium Battery Bank,
♦ 2V Battery, Long Life Battery, Battery Pack, 12V Solar Battery, Battery for 48V System, 6V Solar Battery,
♦ Gel Battery, AGM Battery, Batteries lead acid, SLA Battery, Free Maintenance Battery, Sealed Battery, Deep Cycle Battery,
♦ Solar Power battery,VRLA Battery,rechargeable battery, Long life battery, Solar Gel Battery,
♦ Storage Battery, Solar Panel Battery, Inverter Battery, Solar Charger Controller Battery, UPS Battery,
♦ Marine battery, Car Battery, Electrical battery, Telecom Battery, Solar back-up battery, Terminal battery,
♦ Front Access Battery, Battery Pack, Solar Batteries, 12v Battery,
♦ OPzV Battery, Gel Battery, 2V Tubular Battery, Long Life Gel Battery,
♦ OPzV Tubular Plates Battery, Power Storage Battery, UPS OPzV Battery, Solar Panel Gel Battery.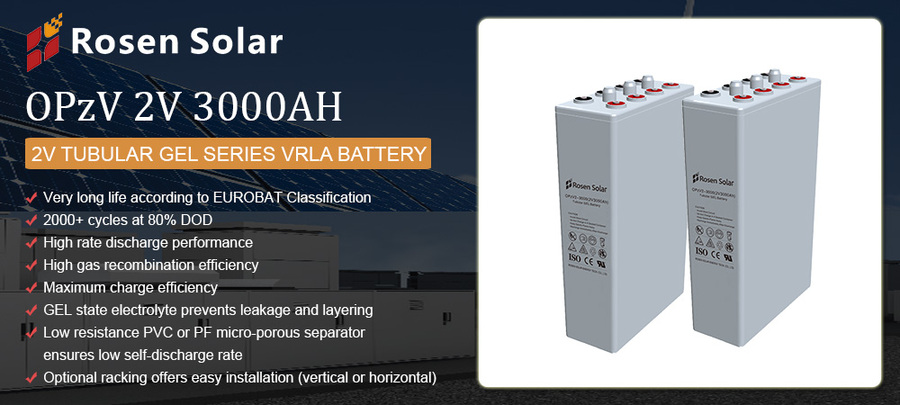 Key Features :
♦Very long life according to EUROBAT Classification
♦2000+ cycles at 80% DOD
♦High rate discharge performance
♦High gas recombination efficiency
♦Maximum charge efficiency
♦GEL state electrolyte prevents leakage and layering
♦Low resistance PVC or PF micro-porous separator ensures low self-discharge rate
♦Optional racking offers easy installation (vertical or horizontal)

Applications :
♦Solar and wind energy storage system
♦EPS and UPS battery backup
♦Signal system , emergency lighting system , security system
♦Telecommunication Equipment
♦Power plant and transmission system

Complied standards
♦ IEC 60896-21/22
♦ DIN40742
♦ IEC61427
♦ YD/T1360
♦ EUROBAT guide, long life BS6290 part 4
2V Series Technical Data
1, Function Parameter

5, Environment Temperature

Norminal Capacity(10 hours rate)

2, Rated Capacity at 25ºC(77ºF)

6, Inner Resistance & Max. Discharge Current

10hr,1.80V/cell,20ºC/68ºF

Fully Charge Battery at 25ºC(77ºF)

3, Capacity affected by Temperature(10 hour rate)

7, Self-discharge@25ºC(77ºF)

Capacity after 3 Month Storage

Capacity after 6 Month Storage

Capacity after 9 Month Storage

Capacity after 12 Month Storage

4, Constant Voltage Charging at 25ºC(77ºF)

8, Dimension & Weight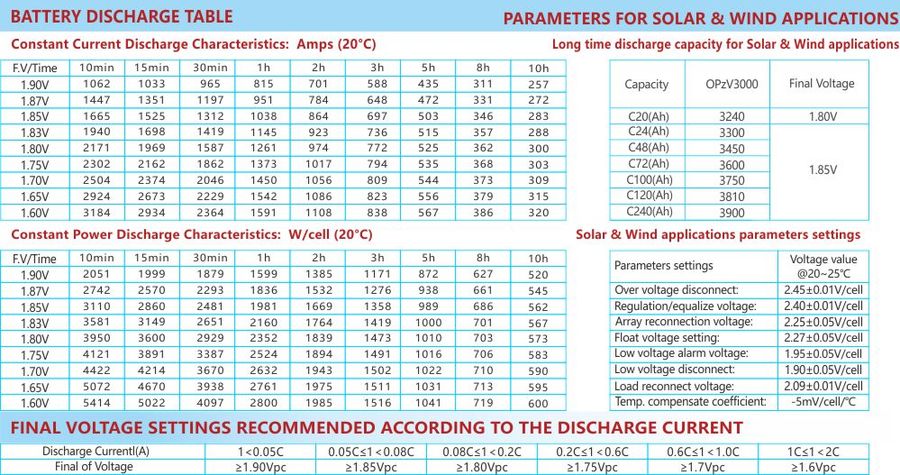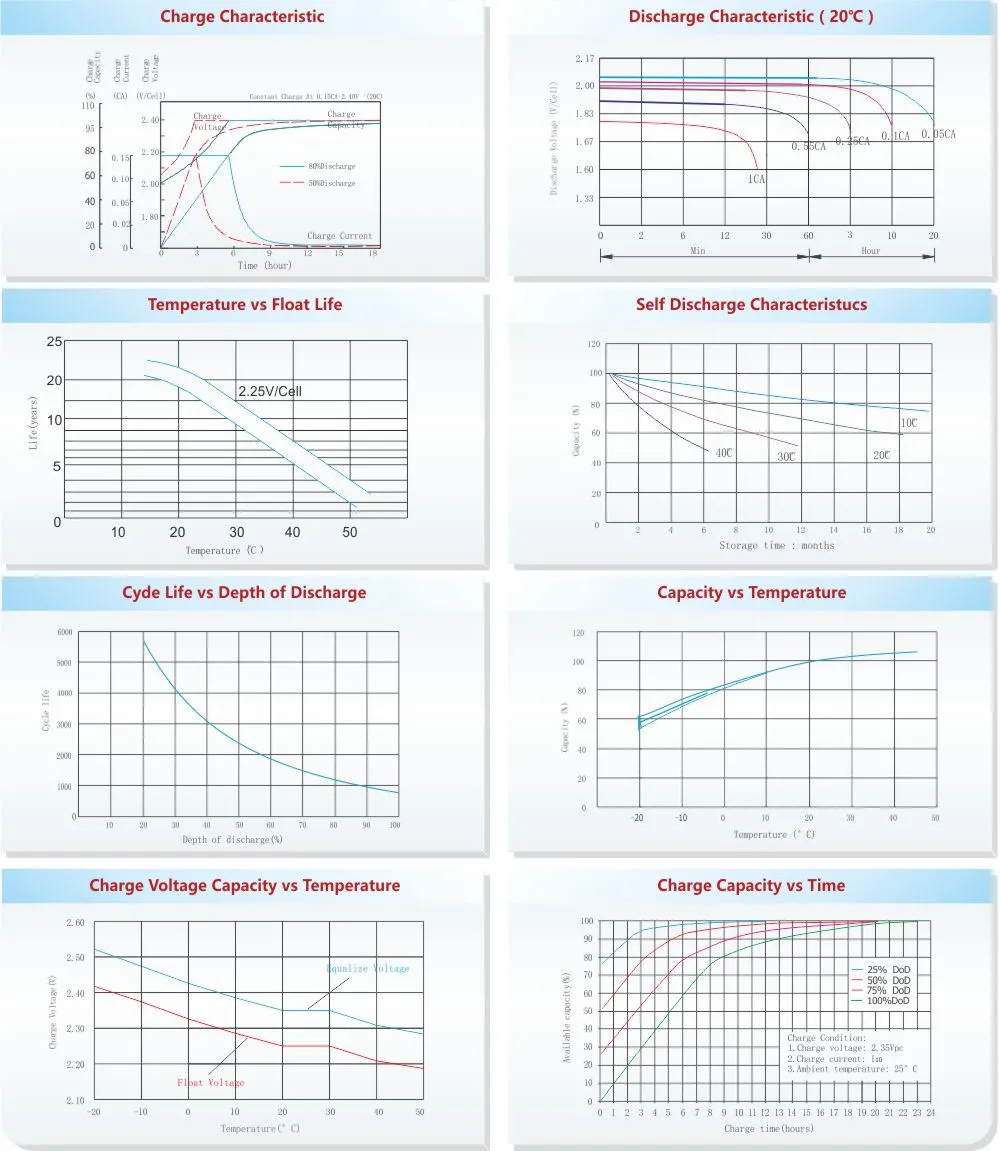 ♦ Our battery factory Founded in 2008 , 2million batteries annual production capacity
♦ Products including valve regulated lead acid battery , Gel battery , deep cycle battery, OPzV and OPzS battery
♦ Products are exported to more than 100countries
♦ Products are certified by CE, UL,Rohs
♦ Mature and very well respected AGM and GEL technologies for valve-regulated lead-acid batteries ranging from 2Ah to 3000Ah