A valve-regulated lead-acid battery (VRLA battery) sometimes called sealed lead-acid (SLA) or maintenance free battery.
There are three primary types of VRLA batteries, sealed VR wet cell, absorbent glass mat (AGM) and GEL cell. Gel cells add silica dust to the electrolyte, forming a thick putty-like GEL. These are sometimes referred to as "silicone batteries". AGM (absorbent glass mat) batteries feature fiberglass mesh between the battery plates which serves to contain the electrolyte. Both designs offer advantages and disadvantages compared to conventional batteries and sealed VR wet cells, as well as each other.
Due to their construction, the GEL cell and AGM types of VRLA can be mounted in any orientation, and do not require maintenance, which is called "Maintenance Free". They are widely used in large portable electrical devices, off-grid power systems, hybrid storage systems, and similar roles.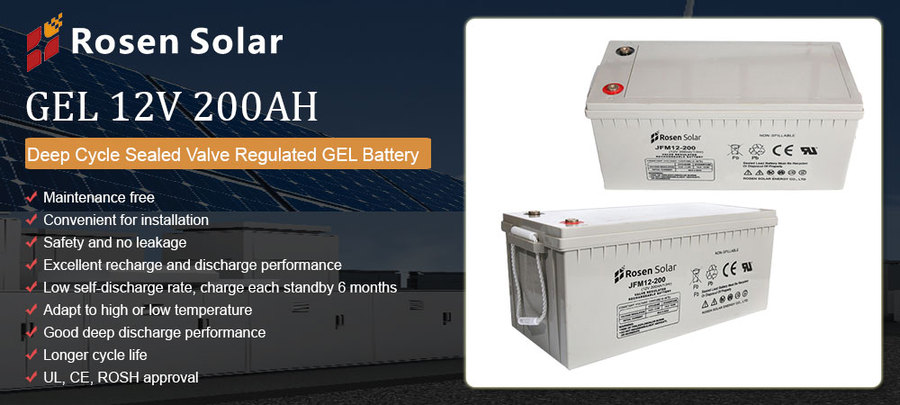 Key Features :
♦Rechargeable 12V 200Ah Gel Deep Cycle Battery
♦Gelled electrolyte made by mixing sulfuric acid with silica fume
♦The electrolyte is gel like ,immobile and does not leak ,enabling uniform reaction of each part of the plate .
♦High rate discharge performance due to tight assembly technology
♦Strong heat dissipation and wide operating temperature range
♦Avoid acid mist being separated out , environment friendliness
♦Efficient venting system release excessive gas automatically
12V Series AGM Battery Technical Data
1, Function Parameter

5, Environment Temperature

Norminal Capacity(10 hours rate)

2, Rated Capacity at 25ºC(77ºF)

6, Inner Resistance & Max. Discharge Current

10hr,10.8V/cell,20ºC/68ºF

Fully Charge Battery at 25ºC(77ºF)

3, Capacity affected by Temperature(10 hour rate)

7, Self-discharge@25ºC(77ºF)

Capacity after 3 Month Storage

Capacity after 6 Month Storage

Capacity after 9 Month Storage

Capacity after 12 Month Storage

4, Constant Voltage Charging at 25ºC(77ºF)

8, Dimension & Weight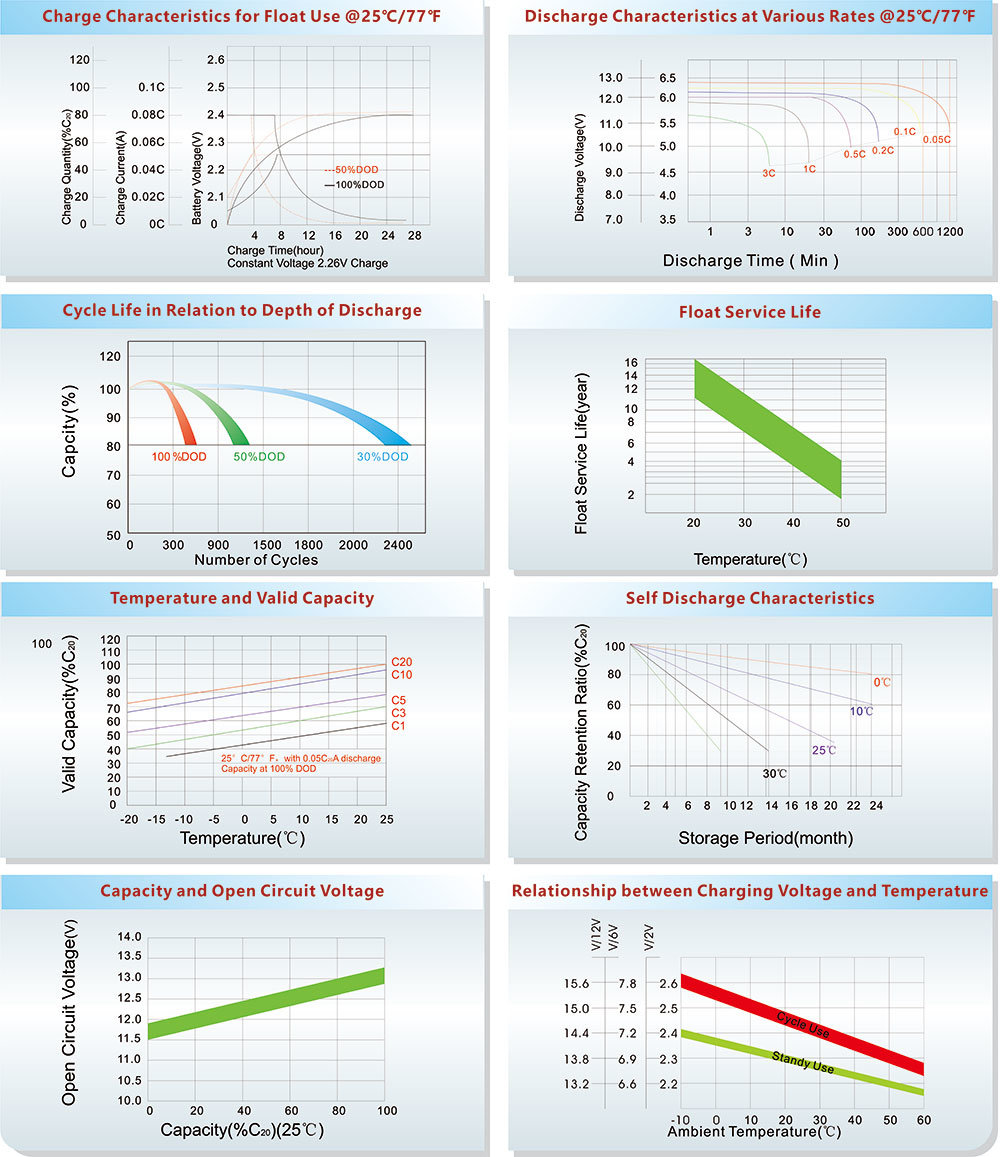 Applications :
♦Solar and wind energy storage system
♦EPS and UPS battery backup
♦Signal system , emergency lighting system , security system
♦Telecommunication Equipment
♦Power plant and transmission system